Last chance to register for PSDSP
Registration will shortly close for the inagural symposium and network meeting on Problem Solving in Design, Synthesis and Process at Burlington House, Piccadilly, London on 25th September.

Sponsored by AstraZeneca, the meeting offers a scientific program on state-of-the-art catalysis, reactor selection, methodology and new capabilities, as well as the opportunity to make new contacts with R&D professionals from cross section of the commercial sector and academia. Details of the program are available here: Problem Solving in Design, Synthesis and Process
Postcard Ad Campaign - 28th July 2009
We are designing a series of promotional postcards for our consultancy and training services to go out in the mail over the next few weeks. We're especially keen to send out an inspirational message for our skills workshops. Here's a sneak peak at some of the ideas.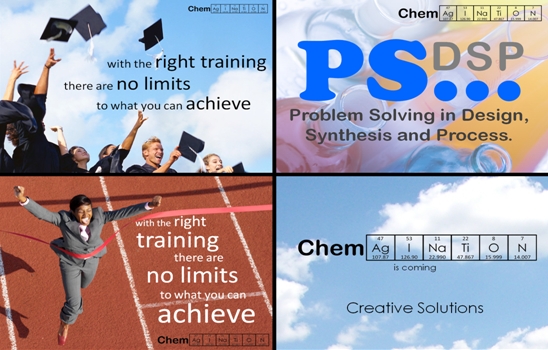 PSDSP - 8th June 2009
Chemagination and the RSC Physical Organic Chemistry Group are organising a one day symposium and networking event called "Problem Solving in Design, Synthesis and Process". There will be an interesting day of lectures and case-studies focussed on mechanistic problem solving, as well as a Capabilities Showcase of poster presentations detailing new techniques and methodology. (Click here for more information).
More Graduate Training - 18th May 2009
We have added another Graduate Skills Training Workshop entitled "I'm a Professional! Personal Effectiveness and Attitudes in the Workplace" to our training courses service. This half-day course is intended for a general audience, so contains refreshed and expanded non-chemistry elements from "I Know How to do That!". We will shortly start marketing this course to the academic sector and companies with a significant graduate intake. (Click here for more information).
Resources and Links page added - 8th May 2009
As a service to the chemistry community, we have added a new section to our webspace linking to useful resources on the internet. This page will build over time into what we hope will be a hub for science in our areas of interest. To start the ball rolling, we have posted a "Chemagination How-To Guide" on measuring pKa by UV-vis spectrophotometry. Also linked are the Bordwell pKa data compilation and the RSC Physical Organic Chemistry Group Facebook area started by Dr Lynn Kamerlin. More will follow in the coming weeks. (Click here for the Resources and Links Page).
GRADSkills course finalised - 25th April 2009
Chemagination's new Graduate Skills Training Workshop, in development for the past two months, has now been finalised. Entitled: "I Know How To Do That! Applying what you learn at University to your future career", the full-day workshop focuses on creative thinking, problem solving and decision making, along with the attitudes and capabilities that are central to a successful modern professional career. There is an expanded section on applications and recruitment aimed at giving participants the tools to secure that all-important first job in the commercial sector. (Click here for more information).
Chemagination at SymPOC - 7th April 2009
Chemagination presented a poster at the 2009 Symposium on Physical Organic Chemistry. The conference's 120 participants included leading academics and eminent industrialists, making it an invaluable opportunity to discuss the state of the art, the up-coming meeting on Problem Solving in Design Synthesis and Process and Chemagination's new Graduate Skills Training Workshop.
The Chemagination Logo - 12th March 2009
We're very proud of the distinctive Chemagination logo with its periodic table motif ... you wouldn't believe the long and winding road of design iterations that brought it into being. We have started the ball rolling on protecting it as a trademark.
Chemagination is here! - 6th February 2009
Chemagination Ltd incorporated today with the aim of providing technical solutions, training courses, events and networking services to the fine chemicals and pharmaceutical industries. The website is a work in progress so please check back regularly for new content.